The Black Farmers and Agriculturalists Association is showing its solidarity with Occupy Memphis.

At a Monday rally, association president Thomas Burrell spoke to the protesters about the suffering of poor black farmers, who were discriminated against by the U.S. Department of Agriculture for decades, The Commercial Appeal reported (http://bit.ly/wsLFHT). A class-action lawsuit recently awarded the farmers more than $1 billion in compensation.

The Occupy protesters want to curtail the influence of big business and the ultra-rich on the political process.

The downtown rally on Martin Luther King Jr. Day was part of a national effort to unite the mostly white Occupy Wall Street protesters with African American groups that also are concerned about the widening gap between the rich and the poor.
(via socialuprooting)
By Jonathan Larsen and Ken Olshansky, MSNBC TV

A well-known Washington lobbying firm with links to the financial industry has proposed an $850,000 plan to take on Occupy Wall Street and politicians who might express sympathy for the protests, according to a memo obtained by the MSNBC program "Up w/ Chris Hayes."

The proposal was written on the letterhead of the lobbying firm Clark Lytle Geduldig & Cranford and addressed to one of CLGC's clients, the American Bankers Association.

CLGC's memo proposes that the ABA pay CLGC $850,000 to conduct "opposition research" on Occupy Wall Street in order to construct "negative narratives" about the protests and allied politicians. The memo also asserts that Democratic victories in 2012 would be detrimental for Wall Street and targets specific races in which it says Wall Street would benefit by electing Republicans instead.

According to the memo, if Democrats embrace OWS, "This would mean more than just short-term political discomfort for Wall Street. … It has the potential to have very long-lasting political, policy and financial impacts on the companies in the center of the bullseye."
To the #Occupiers:

Folks, you won. It's time to get out of the tents and move forward.

Seriously: you won. Prior to your movement, the only thing anyone talked about in American politics was austerity. About the need for budget cuts aimed at the poorest and most vulnerable parts of society….
(via girtabaix)
Occupy Portland's Action Committee has issued a call for decentralized-yet-coordinated nonviolent civil disobedience against big banks. Let's shut them down!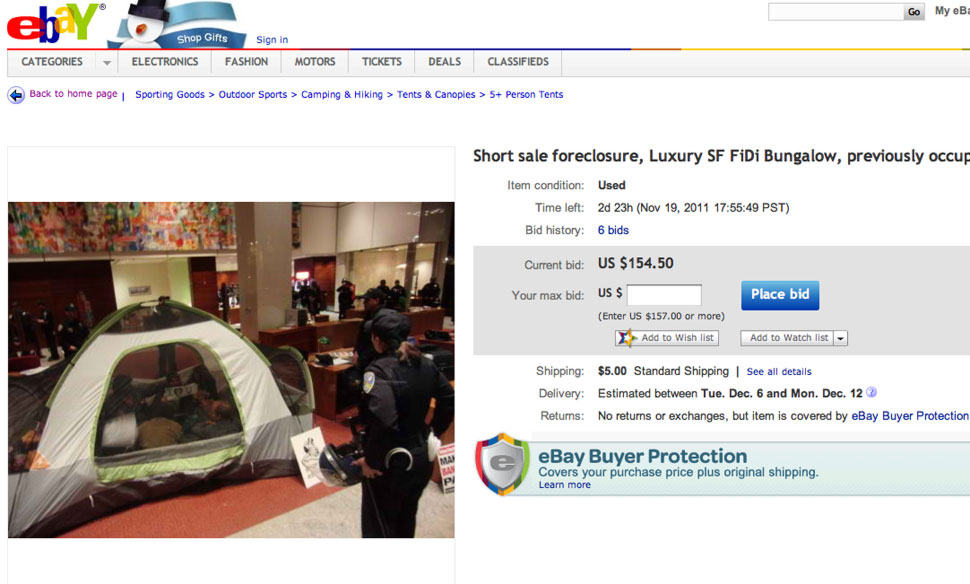 Yo, dawg, I heard you like occupations… so I pitched a tent inside your bank while you occupy the bank! Photo above taken by Aaron Muszalski, of Occupy protesters' tent, erected inside a Bank of America in San Francisco during a takeover-protest. There are 10 people inside the tent, and one protester, Kendra Yukiko, live-tweeted the arrests
Via @newyorkist, and found on Pastebin, a statement written collectively from the Men's holding cell, Precinct 1, NYC. November 15, 2011